Virgin Active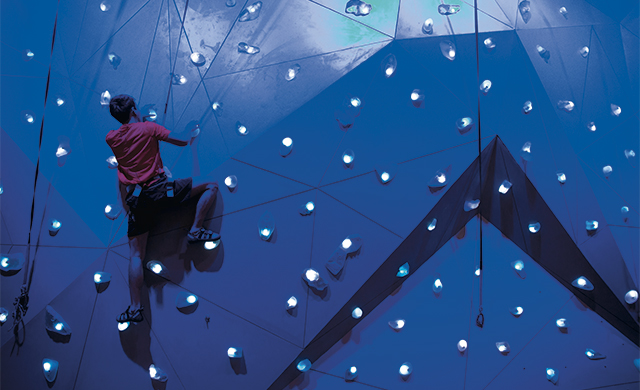 Opened in April, the gym from Richard Branson's multinational brand Virgin covers a massive 4,000-square-meter space and is packed with plenty of choices of classes and activities. Apart from the cycling room, yoga or pilates, what we're really excited about is the climbing wall. The huge blue wall here is dotted with fluorescent rocks that light up according to which route you choose (easy, medium and difficult). Rates start from B3,000 for membership activation (with an initial commitment period of four weeks) and B645 for the weekly fee.
Empire Tower (linked to BTS Chong Nonsi Skywalk), South Sathorn Rd., 02-110-9772. Mon-Sun 6am-10pm. www.virginactive.co.th
The Racquet Club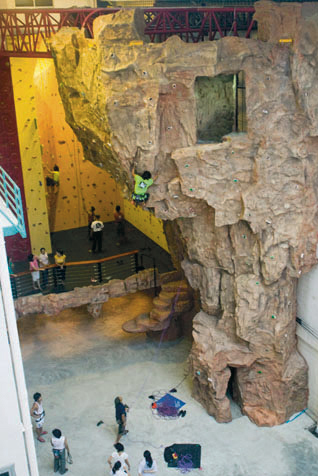 This longstanding sport club offers indoor and outdoor facilities like tennis, badminton and squash courts and a swimming pool, right in the heart of Sukhumvit. There's also an indoor rock-climbing wall built by the Climbing Factory company, which offers two styles—sport climbing and bouldering—with trainers. A day pass for non-members starts from B525 on weekdays and B625 on weekends, while member prices are from B4,280 per month and B21,400 a year. Bookings are required and also subject to a belayer fee of B75/person from 4-8pm on weekdays and 10am-4pm on weekends, while outside this time prices go up to B200/person per hour. Currently under renovation, the wall will open again on Sep 1.
6,8 Amara 3, Sukhumvit 49/9. 02-714-7200. BTS Phrom Phong. Open daily 1-10pm, public holiday and weekend 10am-10pm. www.rqclub.com
Rock Domain Climbing Gym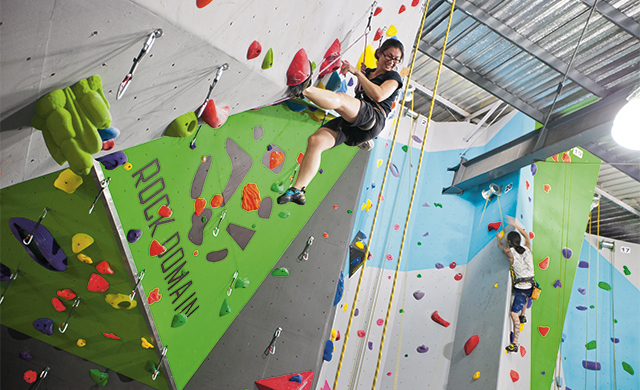 Arriving in Bangkok just last year, Rock Domain Climbing Gym encourages you to climb for exercise and get some practice in before hitting the real heights. Spread over 1,100 square meters, it offers different climbing walls including lead climbing, top rope climbing and bouldering, with trainers on duty at all times. Yoga and fitness rooms are available, too, along with a café and climbing store if you're looking to get serious. Prices start from B400 (B300 for under 18) for a day-pass up to B21,500 (B16,800 for under 18) annually. Kids are welcome, too.
1780 Bangna-Trad Rd. 02-399-4648. Mon-Fri 11am-10pm, Sat 10am-10pm and Sun 10am-9pm. www.rockdomaingym.com
Proclimber Thailand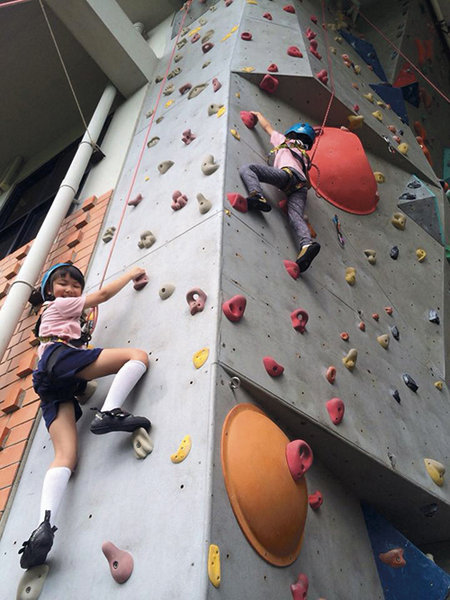 Run by professional climber Kraisak "Tom" Boonthip, Proclimber Thailand is an independent climbing venue that offers classes for kids and adult for exercising purposes, while also providing training for the Thai national team. Proclimber also offers wall building services (it recently built one for Plernpattana School), sells climbing gear and organizes meet-ups for pro climbers all over Thailand. The space might not as big as the others on this list, but the venue is easy to reach and offers an easy-going atmosphere in which to get off the ground. The rate (B150/day), too, is pretty exciting for beginners and pros alike.
Rock Climbing 101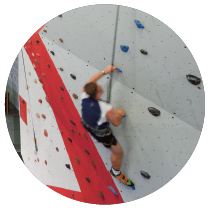 Bouldering
• No prior experience required
• Free climb without safety equipment
• Done with wall no higher than 4-5 meters with safety crash pads
Top Rope Climbing
• No prior experience required
• The most common style used at indoor climbing walls. A climber attaches themselves to one end of a rope, which then passes up through an anchor at the top of the wall, and down to a belayer on the ground.
• Unlimited height (the highest wall in Bangkok is around 13 meters)
Lead Climbing
• Climbing experience required
• Used to ascend a route where the climber attaches themselves to a length of slightly stretchy rope and ascends whilst periodically clipping into a fixed protection on the face of the route. Also requires a belayer.
• Unlimited height