這些經典的泰國餐廳你吃過幾間呢?到泰國玩不彷多吃幾間品嘗經典美味~
Opened: 1980
What they say: It all started in Brussels where Chef Nooror Somany Steppe and her team decided to take the concept of Royal Thai cuisine to the world. Since those beginnings, it can now count on 11 venues worldwide. With a major focus on delicate presentation, they're now starting to offer a lot more old and rare recipes. Beyond the likes of the common gaeng kiew wan (green curry), you'll now find gaeng kee lek and tom som, as Chef Nooror says more Thais are showing an interest in their culinary roots.
What we say: Blue Elephant's sophisticated interpretations of classic Thai specialties and opulent décor have made it a hit internationally as well as here in Bangkok at the flagship property on Sathorn Road. The beautiful presentation really impresses, while the taste is equally satisfying. Dishes like gaeng om (curry with vegetables) really burst with balanced flavors and the khao luem pua (baked rice in lotus) is unforgettable—cooked to perfection.
233 South Sathorn Rd., 02-673-9353. BTS Surasak. www.blueelephant.com. Open daily 11:30am-2:30pm, 6:30-10:30pm.
Opened: 2004
What they say: Traditional Thai cuisine, as well as top quality ingredients. Signature dishes that have been around since the beginning include khao pad Erawan (stir-fried rice and chili paste) and pla yang bai toey (grilled sea bass with pandanus).
What we say: Good food (all the recognizable favorites), an Asian ambiance (a little Thai silk and a lot of air-con) and friendly service are some of the virtues of this cute eatery in the very swanky hotel. More than just a tea room, they also have delicious main courses worth trying. The comfy seats, tranquil atmosphere and free board games are just a few of the details that ensure this restaurant stands apart from others. The food, however, is not a huge break from hotel Thai food tradition.
2/F, Grand Hyatt Erawan, 494 Ratchadamri Rd., 02-254-1234. BTS Open daily 10am-10pm.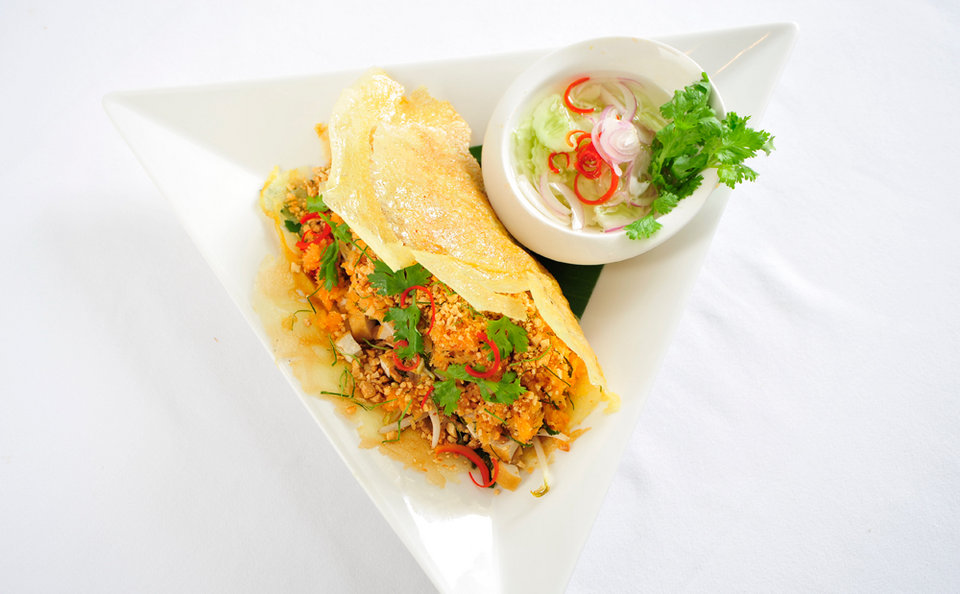 Opened: 1982
What they say: Since its inception, the place has described itself as Royal Thai cuisine with authentic flavors and a whole-hearted devotion to presentation. It's also now housed in a very nice century-old house.
What we say: Besides the royal Thai dishes like chor muang (steamed flower-shaped dumplings filled with minced chicken) and goong sorn glin (marinated shrimp seasoned with lime juice, ginger and wrapped with lettuce leaves), you also find classic fare like tom yum and masaman, too. Just don't go expecting particularly bold and rich flavors on the savory side of things—dessert is where Bussaracum really shines. Reward yourself with the delicious magrood loy geaw (kaffir lime in syrup with crushed ice) or kanom ko (glutinous rice flour stuffed with sweetened coconut in coconut milk).
1 Soi Pramual, Si Wiang Rd., 02-630-2216-8. BTS Surasak. www.bussaracum.com. Open daily 11am-2pm; 5:30-10:30pm.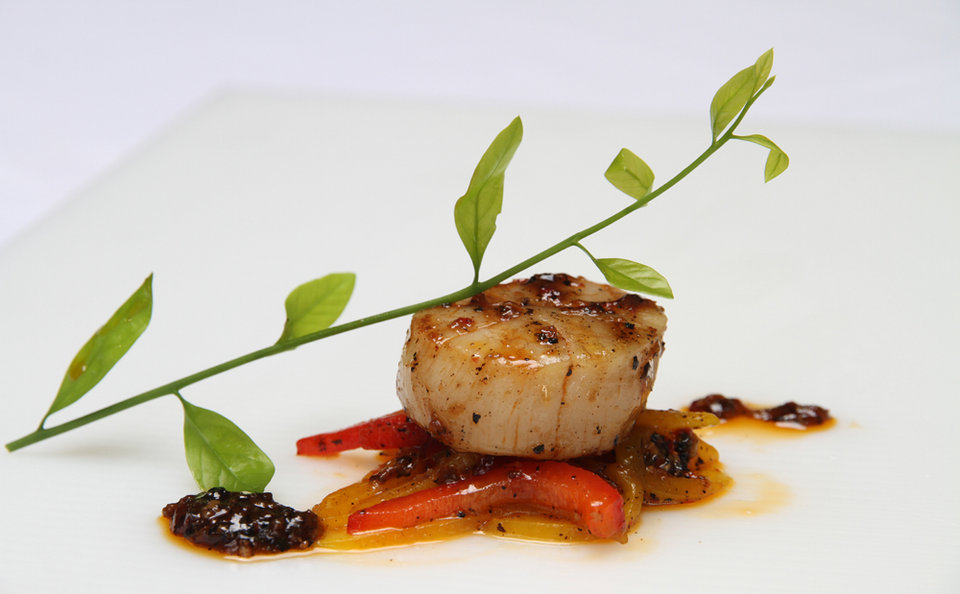 Opened: 1983
What they say: Chef Vichit Mukura, a renowned master of his craft, has been running the kitchen here since 1986. He tells us that the concept has never wavered from serving up authentic Thai flavors, with nods to Royal cuisine and an emphasis on quality produce. Just recently Sala Rim Naam seems to be drawing more locals, and Chef Vichit puts much of this down to the popular chef's table which invites the next generation to gain a greater understanding of Thai food.
What we say: The chef's table (B2,900 for 6 courses, B3,900 for 9 courses) has only increased our love of the place. It sees 4-12 people seated at a table in the Sala Rim Naam kitchen. To guarantee quality, Chef Vichit sources most of the ingredients from either his own rice field, farmers he knows personally or Or Tor Kor market. His Thai dishes bring out the natural flavors of these carefully curated ingredients, while you also get a personalized master class in what you're eating.
Mandarin Oriental, 48 Oriental Ave., Charoen Krung Rd., 02-659-9000. Open daily noon-3pm, 5pm-midnight.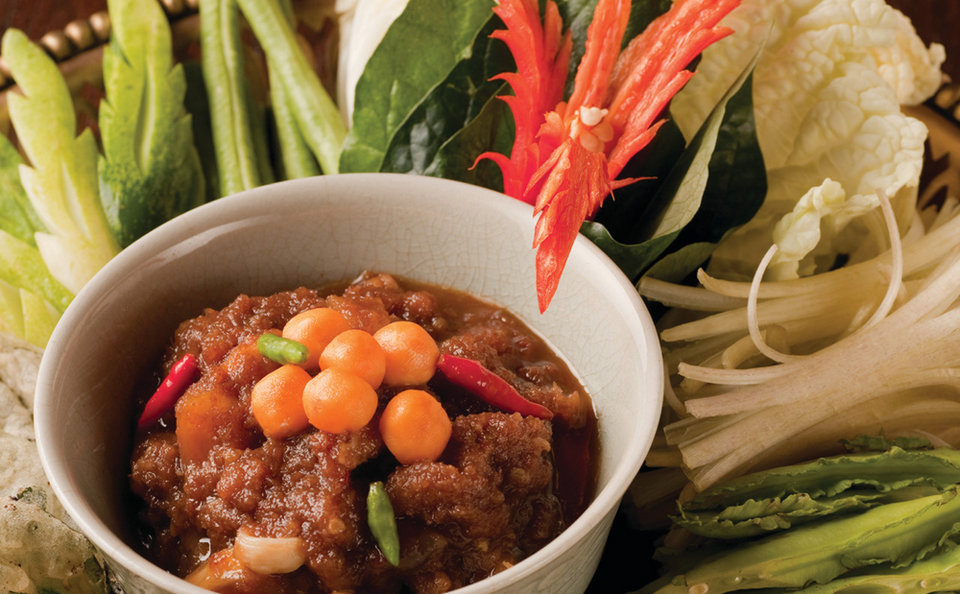 Opened: 1983
What they say: The menu focuses on quality and authentic recipes that resonate with both expats and Thais.
What we say: The place serves up local specialties in a charming decor befitting its name: spices overflow from burlap bags or are piled into small wooden shelves. The place was built 30 years ago by the P49 design company, and we think it's aged in a beautiful way. The dishes here are very pleasant and affordable by five-star hotel standards. The freshness of the coconut milk in the yam hoy shell kati sod (spicy scallops salad with coconut milk, lemongrass, chili and lime dressing) really stands out and shows that their emphasis on good ingredients is well-founded. The nam prik long ruea (spicy shrimp paste with minced pork, catfish and eggs), too, is really delicious and aromatic. The shrimp relish alone makes us want to go back for more.
Four Seasons Hotel, 155 Ratchadamri Rd., 02-250-1000. BTS Ratchadamri. Open daily 11:30am-2:30pm; 6-10:30pm.