水上市場向來是泰國旅遊景點中的大熱門,除了眾多百貨及夜市,更是許多遊客都必定造訪的,水上市場向來能讓人更融入泰國文化當中,因此喜愛自助旅行的朋友可以參考不同水上市場風情!
Taling Chan, Bangkok. Open Sat-Sun 8am-4pm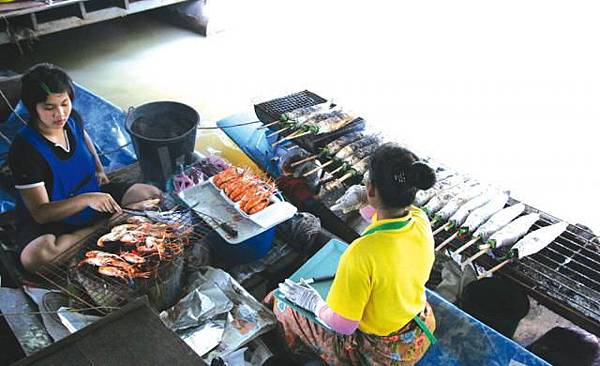 Talingchan floating market is tucked away in a suburb sometimes called Klong Chak Phra. It's a great spot to feel like you're outside of Bangkok, even though it's just 30 minutes from the CBD. The market sits on the banks of a small canal connecting the larger Bangkok Noi and Bangkok Yai canals. The market itself started in 1987 with only five bamboo rafts but now thousands of shoppers swarm the riverside shops and stalls every weekend. Among the market's highlights are the pontoons, which have been set up with little tables and chairs, bob up and down as the boats cruise by. Here, you can stock up on moo satay, kanom jeen, grilled seafood, Thai desserts, fresh fruits and vegetables from vendors' gardens. You can also visit two other floating markets nearby—Wat Saphan and Lat Mayom—as part of a one-hour boat tour.
Kwan-Riam, Bangkok. Open Sat-Sun and public holidays, 7am-8pm, www.kwan-riamfloatingmarket.com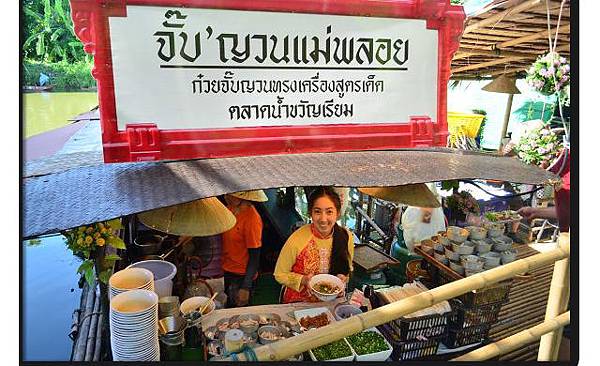 This is perhaps the newest floating market in Bangkok. Located along Sansab canal near Wat Bampen Nua and Wat Bangpen Tai, between Soi Serithai 30 and Soi Ramkamhaeng 187, the market is set with the aim to replica the traditional Sansab canal-side way of living and to pass on to the next generation the local culture. In the mornings you'll see boats with monks at 7:30am for people to offer food stuff to them. You'll find many restaurants and stalls selling food from different provinces like grilled pork from Trang, kanom jeen nam ngeow and khao soi from Lampang and yam pak wan from Saraburi. There are many retail shops selling clothes, souvenirs handicrafts and local products.
Bang Nampueng, Samut Prakarn. Open Sat-Sun 8am-5pm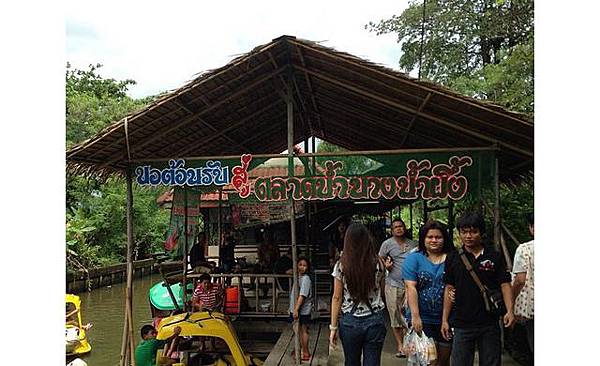 Set near Bang Krachao, easily accessed by shuttle boats from Wat Kloey Toey Nok or Bangna piers, the market is very close to Bangkok and it shouldn't take you more than 30 minutes to get there from the city center. The market has a concrete walkway along a tiny canal, featuring stalls selling a variety of food, herbal products and handicrafts. There are boats next to the walkway selling that most traditional floating market dish, guay tiew ruea (boat noodles). Other highlights dishes here are the hoi tod (omelet with mussels) served in tiny cups and Thai desserts likekahom kluay and babin. You can rent a rowboat to cruise along the canal, too. Before or after a visit to the market, check out the Bang Krachao area, named the lung of Bangkok, to enjoy the greenery and fresh air. There are bicycles for rent as well.
Don Wai, Nakhon Pathom. Open daily, 8am-4pm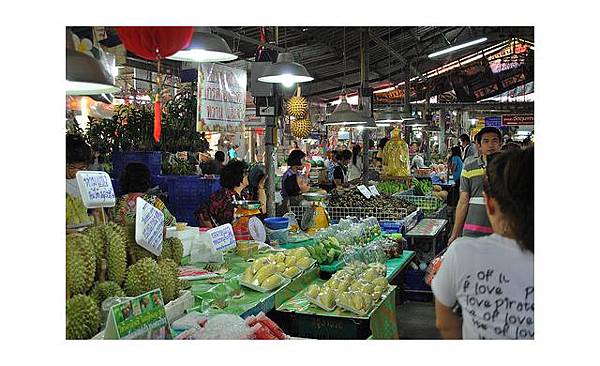 Located just less than 60km from Bangkok, Don Wai Market is behind Don Wai temple on the banks of the Ta Jeen River. Though there are no boats selling foodstuffs on the river like at the other traditional floating markets, you can enjoy a meal with riverside views on a floating restaurant cruising along the river. The market is very popular also due to its wide selection of food and desserts, including rare traditional Thai snacks like thong muan sod and fakbua boran. Among the popular dishes at the market are boiled carp in salt, pot-stewed duck and homok. Agricultural products like organic vegetables are available, too. The market is close to the renowned Wat Raikhing, so you can make a trip there before or after shopping and having a meal.
Amphawa, Samut Songkram. Open Sat-Sun, 8am-7pm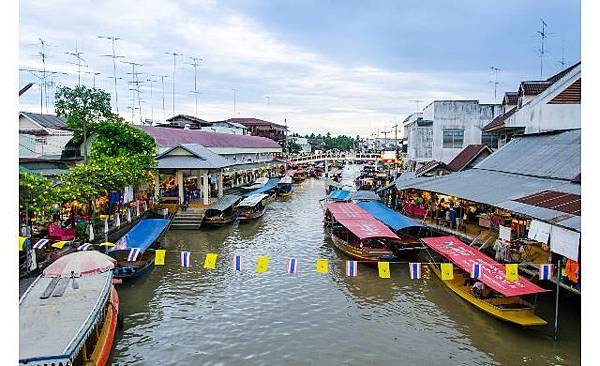 Still many people's favourite floating market in the region, Amphawa is in fact only 1.5 hour's drive from Bangkok. The market features a variety of food and retail stalls alongside the Mae Klong River in a retro setting. Here, you can find delicious traditional Thai dishes like the steamed vermicelli and prawns, authentic drinks like cha yen (orange ice tea) and authentic coffee and various traditional desserts made from sugar palm and coconut. Take a boat trip in the evening to see the fireflies while enjoying the charm of the traditional canal-side way of living