綠海藍天美麗的是一個渡假天堂喔!
Samui's 10 Best Restaurants and Bars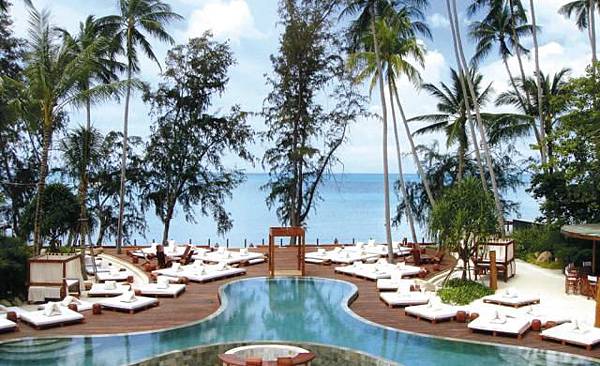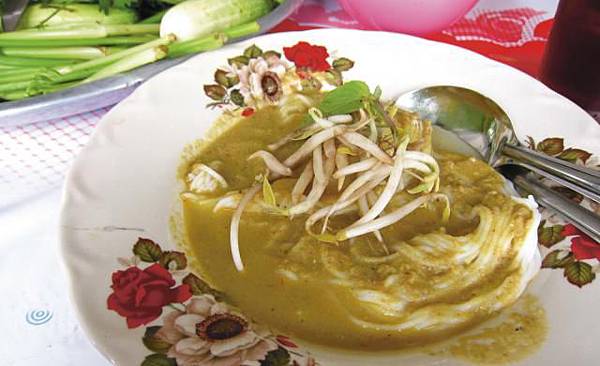 Eat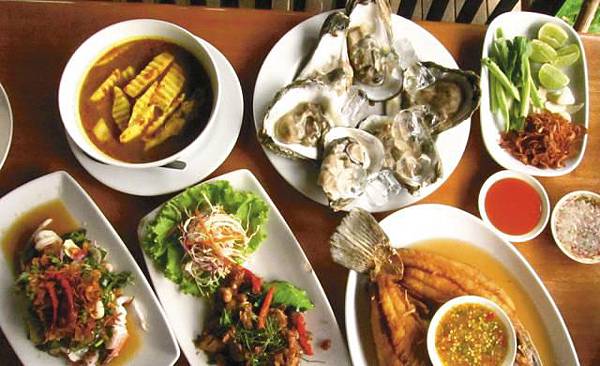 438/82 Moo 1, Maret, 077-233-082, 081-538-7045. Open daily 10am-10pm.www.sabeinglae.9nha.com
Sabeinglae offers a long list of authentic local dishes like gaeng kua hed lhoob (mushroom curry), wai kua (squid simmered in coconut milk), and gang som pla grabog yod mapraw (sour curry with fish and young coconut). Also try the fresh oysters with deep-fried garlic (B40 each). The kluay buad shi (bananas in sweet coconut milk) can't be missed for dessert. Unlike other seafood restaurants in Samui, the bill is affordable and might come in under B1,000 for two.
7/3 Bang Por Beach, 077-236-458. Open daily 10am-10pm
If you want authentic, then test your tongue with Janhom's fiery Southern dishes like the nam prik goong sod (vegetables with shrimp relish, B120) and wipe your tears away with the kua gling moo (stir fried pork with spicy herbs, B150) at this popular no-frills eatery.
217/2, Maenam Beach Soi 4, 077-247-075. Open daily 8:30am-3:30pm
A not-to-be-missed spot for its local food. Situated close to Maenam Intersection, Kanomjeen Pa Maitree offers various soups from nam ya (coconut soups) to green curry, or gaeng tai pla (a spicy Southern soup) to eat with rice noodles. Prices start from just B30.
Fisherman's Village, Bophut Beach, 077-427-115. Open daily 9:30am-1 pm.www.namchasamui.com
Run by a Filipino family with a tea obsession, this teahouse sits just at the entrance of Fisherman's Village and is one of the most charming buildings in the area. Like almost everywhere in Samui, the place offers an open-air vibe, but here there are four sections with Japanese, Chinese, African, and English tea room styles. Their offerings range from English breakfast and Jasmine, to chai tea imported from around the world. Prices start at B120 per pot.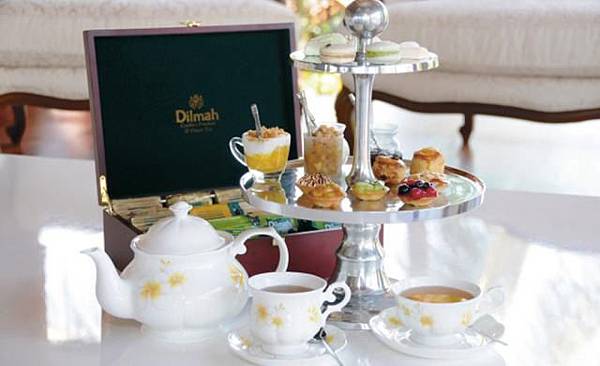 Zazen Boutique Hotel and Spa, 177 Moo 1, Bophut, 077-425-085, www.samuizazen.com
Created by couple Alex and Ti, Le Salon de Ti serves desserts, cocktails and 23 kinds of Dilmah tea, served hot or cold. The open-air space on the 2/F of the teak building is decked out in vintage-style French furniture and is perfect for afternoon high tea (from B590 for two people). Downstairs, Zazen Restaurant is a casual oceanfront joint serving tapas and Thai cuisine by day, after which it turns into a candlelit, intimate outlet for French Executive Chef Cyrille Keyser's fine Mediterranean cuisine. Zazen also has the only underground wine cellar on the island—it's blissfully cool.
Drink
141/190 Moo 6, Bophut, 077-256-125, 080-692-0520. Open Tue-Thu 4pm-midnight, Fri-Sun 4pm-2am. www.9gemssamui.com
Hidden away on one of the island's many hilltops, 9 Gems combines fine dining with breathtaking views of Pru Chaweng (Chaweng Lagoon) and Chaweng town center below. The menu offers fusion food, tapas, desserts, cocktails and bubbly. Request to be seated on one of their beds on the rooftop to enjoy the 360-degree view. Settling yourself in just before sunset is highly recommended.
Soi Green Mango, Chaweng Beach Rd. Open daily 9pm till late.www.thegreenmangoclub.com
This has long been one of the most popular nightclubs in Samui. With a gigantic open-air space that contains several bars, pool tables, and huge dance floors, all you need is a plastic bucket of Sangsom mixed with Red Bull and some straws. To warm up, stop by at Sweet Soul, the sister club of Green Mango (located right in front).
Soi Green Mango, Chaweng Beach Rd., Open daily 11pm-6am.www.soundclubsamui.com
Sound Club has both open-air and indoor spaces, and the DJs are usually the same ones who do the Full Moon parties on nearby Koh Pha Ngan.
TOP SUNDAY BRUNCHES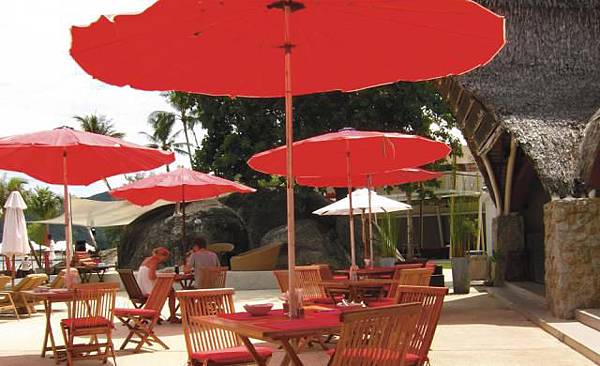 Elegant and sexy with its red hot decor, Beach Republic boasts two infinity pools, regular DJs and live performances. The Ultimate Sunday Brunch Club features a buffet offering myriad international options like meat carving stations, seafood, Thai dishes, sushi, cold cuts, and crepes suzette. Outside those hours, entry into the club for outside guests is B500, but that does turn into F&B credits. There are also 39 rooms available from B3,900 per night.
176/34 Moo 4, Maret, 077-458-100. Sunday brunch B1,400, 11:30am-3:30pm.www.beachrepublic.com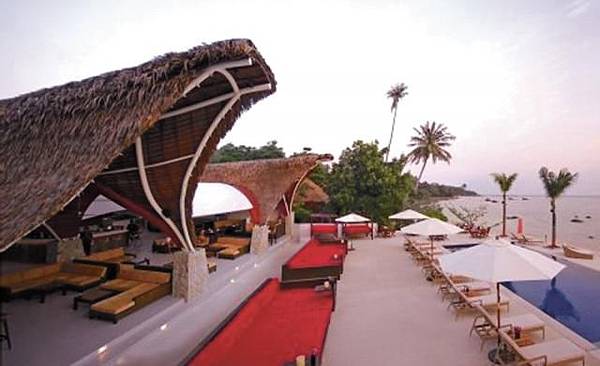 Laze on their throw pillows, daybeds, plush champagne beds and Nikki's signature teepees. The highlight of the week is the "Amazing Sunday Brunch," offering over 40 dishes including seafood, sushi, meat carvings, and desserts. The brunch includes one free mimosa or bellini. Annual membership (approximately B7,500) gets you entry into the club for a year, but won't include special events like Sunday brunch. Private bungalows available, starting from B4,600.
96/3 Moo 2, Lipa Noi, 077-914-500. Sunday brunch B950, 11am-4pm.www.nikkibeach.com