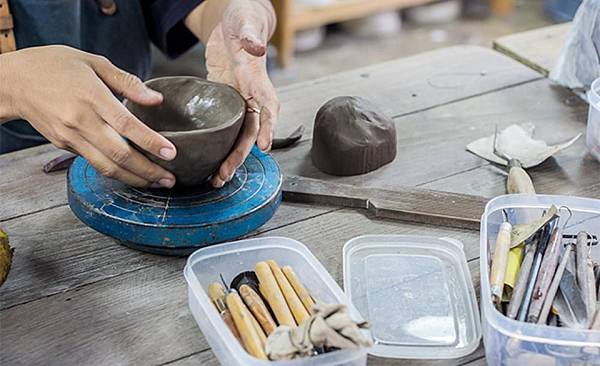 Bangkok's best craft studios and workshops to get in touch with your creative self
有陶藝/皮件/紙藝/花藝/織品等等,或許能來個不一樣的泰國生活!或者來個自己做的泰國工藝品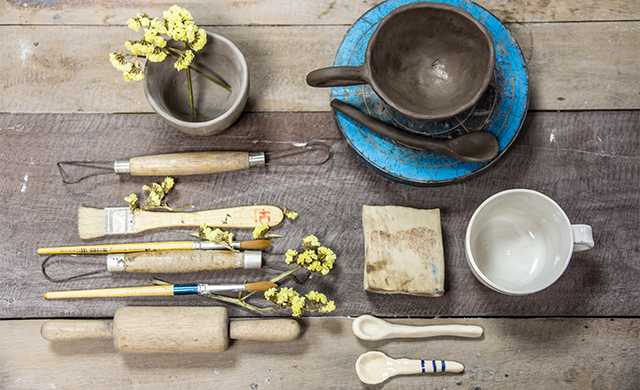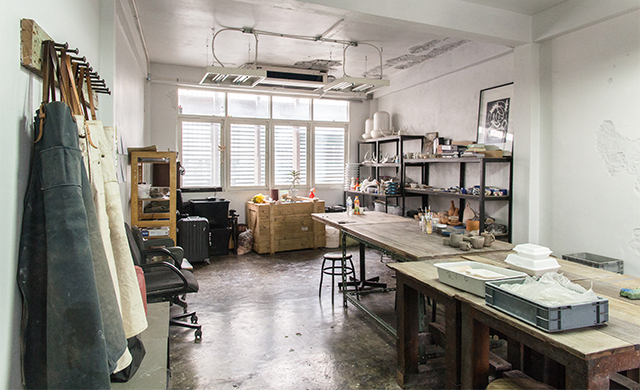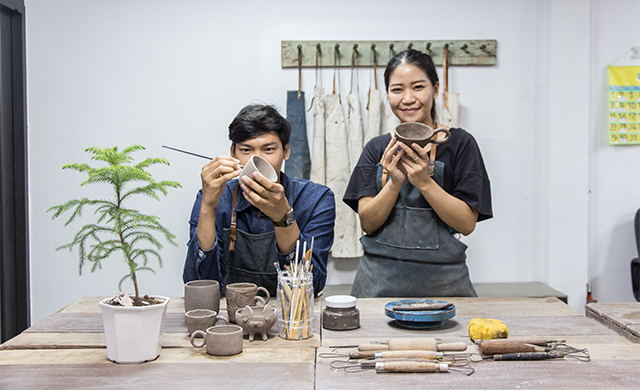 ABOUT: Nestled in Bangkok's old town, Charm-Learn Studio is the brainchild of Silapakorn graduates Thanita "Maii" Yothawong, Chanchai "Bub" Boriboon and Natthapol "Mick" Wannaporn, who all previously worked in the media. The studio started out giving ceramics workshops before expanding to photo and fabric dyeing.
CLASSES: The ceramics course, "Aob-Aun La-Mun Din," spans three days and teaches you how to hand-mold a mug, bowl and spoon at B5,500 per person, with materials included. Check their schedule on Facebook. Seats are limited to 10 people. More advanced is the "Pan Mhun Aun Din," a potter's wheel class limited to two people at a time. The class takes 12 days at B32,000 per person. The beginner photography course is open to 5-10 people at B4,500 per person per four days. Held every two months, the indigo dyeing course takes four days at B3,500 per person with materials included. Other nonregular courses include product design, slow life organic workshop by Uncle Ree and a bicycle tour.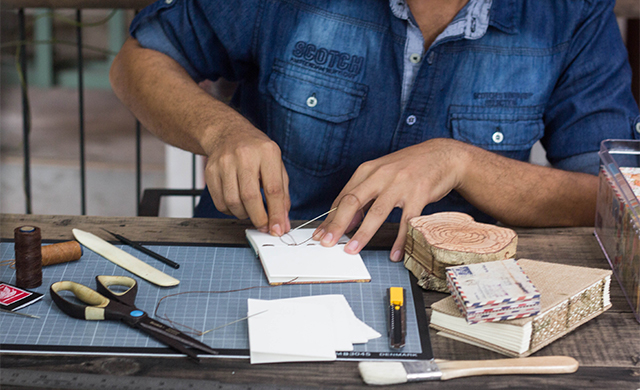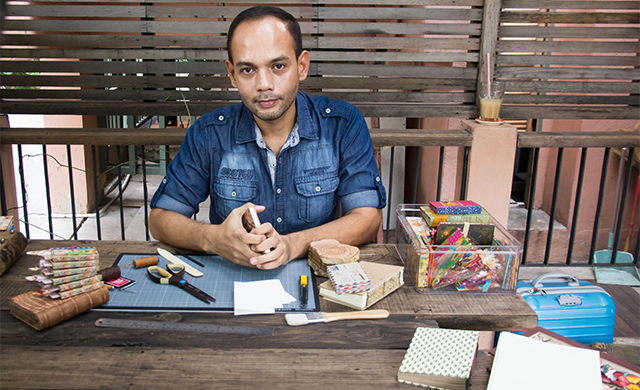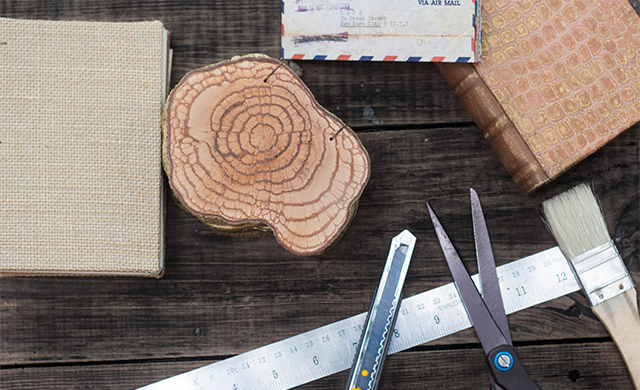 ABOUT: Charum "Reeves" Gadeerojana is a blogger who spent two years in Poland to study in-depth traditional hand-binding techniques. Returning to Bangkok, his hope was to teach a friend or two these skills, but eventually he decided to start up this proper workshop covering subjects ranging from basic book arts to book restoration.
CLASSES: Classes cover many bookbinding styles, like coptic, Polish, German and French, each of which are offered at three levels, from basic to advanced (1 day, from B4,500). For beginners who want to get the whole picture, we recommend the "How To Make a Book" class, which covers five bookbinding techniques, namely origami, accordion, single sheet, case and chain stich binding (2 days, B5,000), and the "All About Coptic" class (1 day, B4,500). Others include "Book & Art," which teaches you how to bind as well as design books that resemble a secret box or incorporate a secret drawer, as well as use collage techniques and other materials like wood and lace (1 day, B4,500). Paper design, paper restoration and book restoration are also available as a one-day class at B4,500 per person. Fees are inclusive of materials.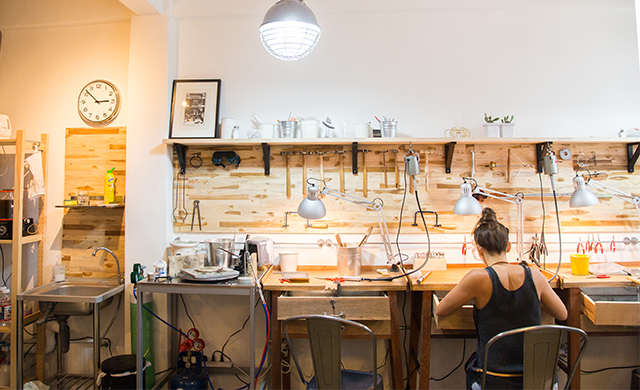 ABOUT: Having launched the still-operating Oneform-Onepiece Jewelry School, jewelry designer Chaiwat Wattananukit is now teaming up with Yellow Fang bassist Piyamas Muenprasartdee to offer another workshop on hot and happening Thonglor. Smitheries rolls out shortcut one-day courses that are ideal for beginners. The workshop covers the A-Z of jewelry-making with all materials provided. While there, you can shop from the owner's jewelry brand, also named Smitheries, as well as eyewear brand Pymmy and Gym.
CLASSES:
They currently offer everything from resin- and silicone-making to wax carving and jewelry coloring. Visit their Facebook page (
fb.com/smitheries
) for more, and make a reservation at 086-336-5337. We recommend the basic one-day course that goes for five hours and starts at B3,500 per person, which covers 15g of silver and all utensils needed.
2/F, Black Amber Building, Thonglor (between sois 5-7). 086-336-5337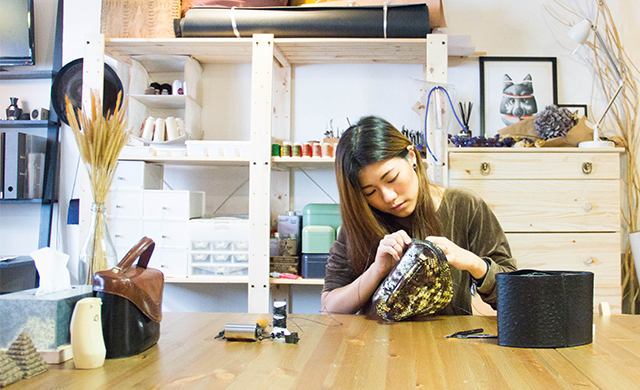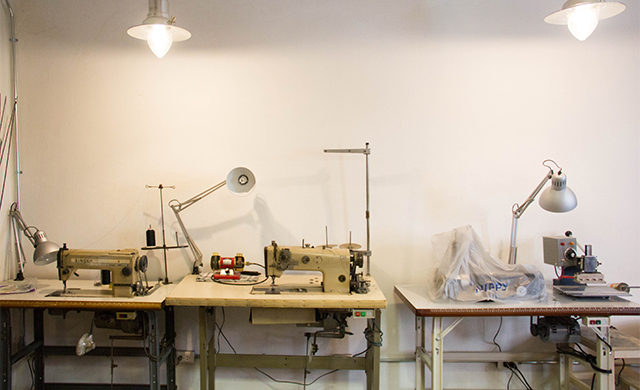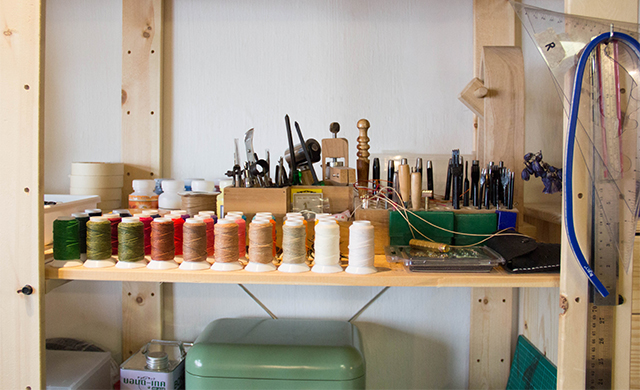 ABOUT: Chulalongkorn University Faculty of Fine and Applied Arts graduate Ratinath "Nuke" Chantawilaskul is not a new name in the Bangkok shoes and bag design industry as she kicked off her career as a designer for long-standing leather brand Maneesilp. Now joining the same building as Black Amber Barber Shop and Smitheries, Ratinath presents her own working
studio for made-to-order leather products, while also running leather-making courses.
CLASSES: Beginners can opt for the one-day workshop covering both design and production (5 hours, B3,500). The basic short course, meanwhile, goes for 15 hours (3-5 days, B8,900), while the full course takes 30 hours (6-10 days, B14,900). The number of days per class and hours per day are negotiable, while seats are limited to four people per class.
3/F, Black Amber Building, Thonglor (between sois 5-7). 086-348-2812. fb.com/rstudiobkk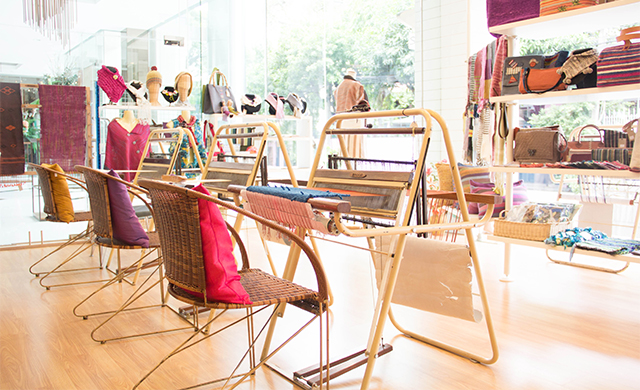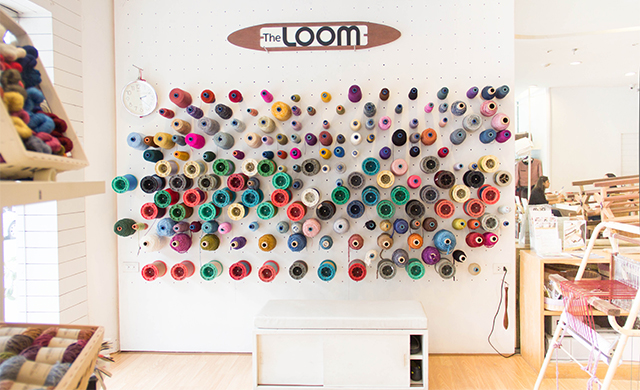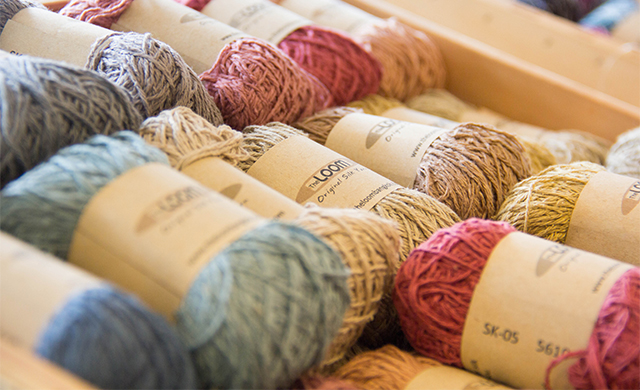 ABOUT: With her family having run a Thai silk business for over 40 years, Wiwan Lertphokanont is now looking to share that expertise with the public. Located in the middle of Thonglor Soi 13, The Loom is set up as a community for people interested to learn more about silk or simply on the look-out for a new weekend hobby. The studio also sells its own silk products and weavingrelated materials.
CLASSES: The initial two-hour workshop (B1,800) teaches basic weaving techniques and lets you weave your own scarf. The follow-up course (level 2-5) teaches you to create free-form and traditional patterns and mix them with embroidery techniques (B1,800/class for 2.5-4 hours). Students are required to pass the initial class before registering for the latter. The half-day scarf class (B2,400) takes three hours and you will be weaving a longer scarf. The studio also welcomes kids aged six and above.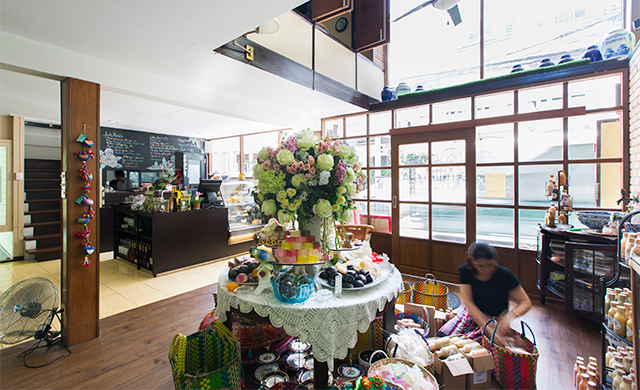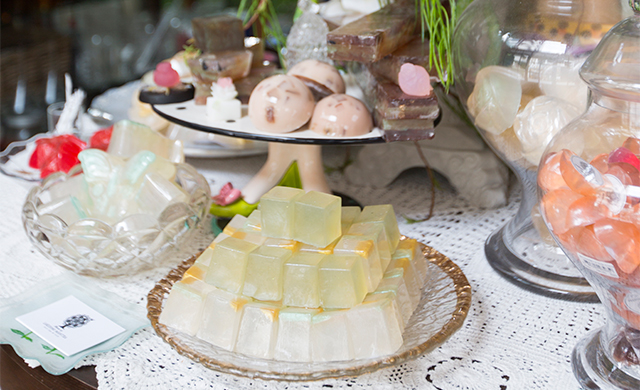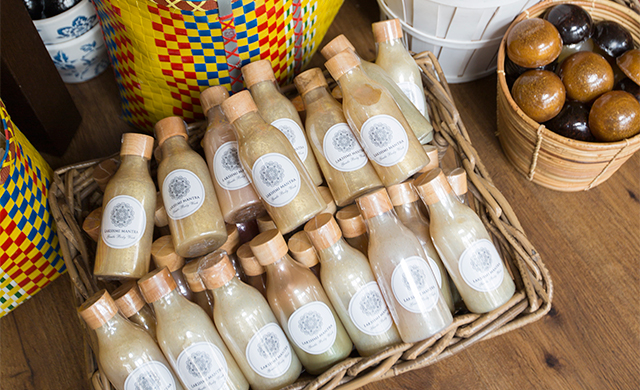 ABOUT: Surrounded by greenery, this old house-turned-spa offers a true hideaway in Bangkok. Run by one of the partners behind Supanniga Eating Room, the House of Lakshmi Mantra is firstly a café and spa where you can enjoy Thai-fusion dishes like spaghetti pad Thai with river prawn (B200), or opt for an office syndrome massage (B550/90minutes). Also available are Lakshmi Mantra spa products, from soap (starting at B30/bar) to body lotion (from B250/280ml), while the owner runs soapmaking workshops, too.
CLASSES: DIY soap workshops are available from Wednesday to Monday starting from B1,200 per person, with all materials included. For more information and reservations, call 084-926-2442. No prior skills needed.
Sukhumvit Soi 12. 084-926-2442. BTS Asoke. Open Mon-Fri from 11:30am-10pm and Sat-Sun from 10am-10pm. fb.com/L.mantra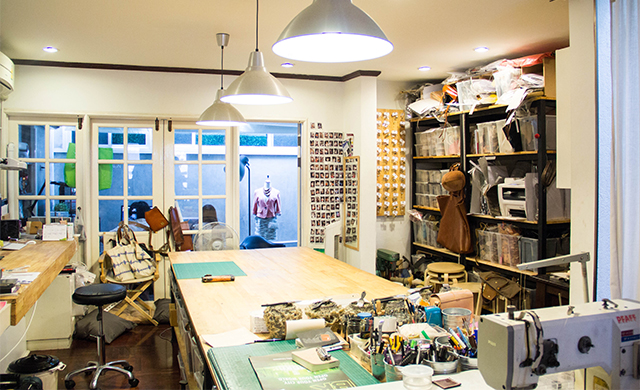 ABOUT: Nestled in a small shophouse down in Sathorn Soi 1, Craftsmangus is a leather workshop run by Suphat "Gus" Jansubbakich. With experience running his own leather brand, Baaah, Gus teams up with his friend Samart "Khing" Petchsom to offer a range of courses focused on making men's and women's leather accessories, including bags and mobile cases.
CLASSES: There are a range of classes for beginners, with no basic skills needed. We recommend the light course, a two-day workshop that guides you step by step (B4,555/person, Sat-Sun from noon- 6pm). And if after that you're serious, apply for one of the full classes, Bold 1 (hand sewing, B7,955/6 days, 11am-3pm) and Bold 2 (sewing machine, B4,555/6 days, 3-7pm), which cover everything up to your final piece. Students can choose to do it either from Mon-Tue or Sat-Sun. Other non-regular classes, like basic leather carving and leather painting, are also available, just check their Facebook page. The schedule is quite flexible but best to call 087-089-6969 and talk directly with the owner.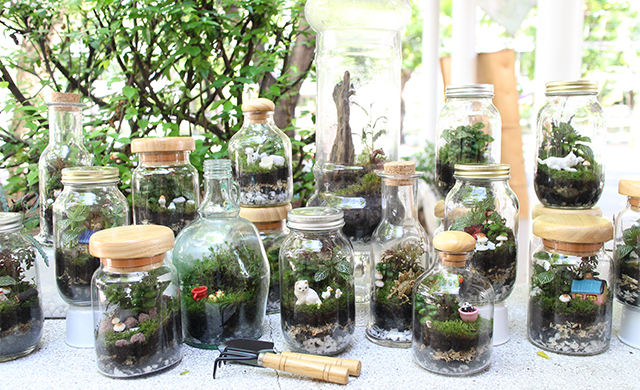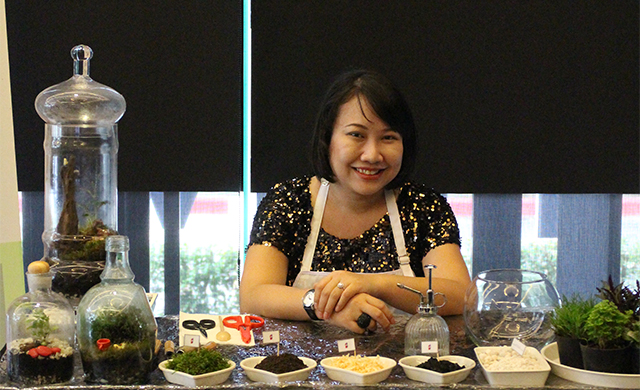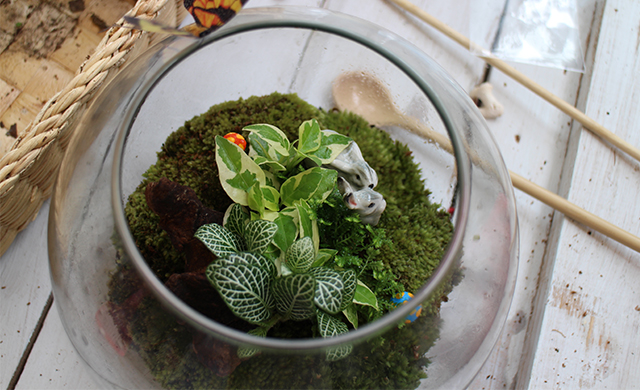 ABOUT: Run by Thanyanan "Jeed" Srichaiwan, the JWD Workshop is an event organizer that mainly sets up DIY workshops for CSR campaigns, putting the focus on all sorts of home décor-related activities from bouquet making to garden organizing. Aside from big-scale company events, Thanyanan also hosts her own terrarium (smallscale eco-systems) workshops for small groups of students.
CLASSES: The schedule is not regular, but is generally held once every two or three months at B1,200 per person with, materials included. Check the Facebook page and call ahead for reservation.
- See more at: http://bk.asia-city.com/city-living/news/bangkok-best-craft-studios-workshops-get-creative#sthash.Z7RB25FG.dpuf