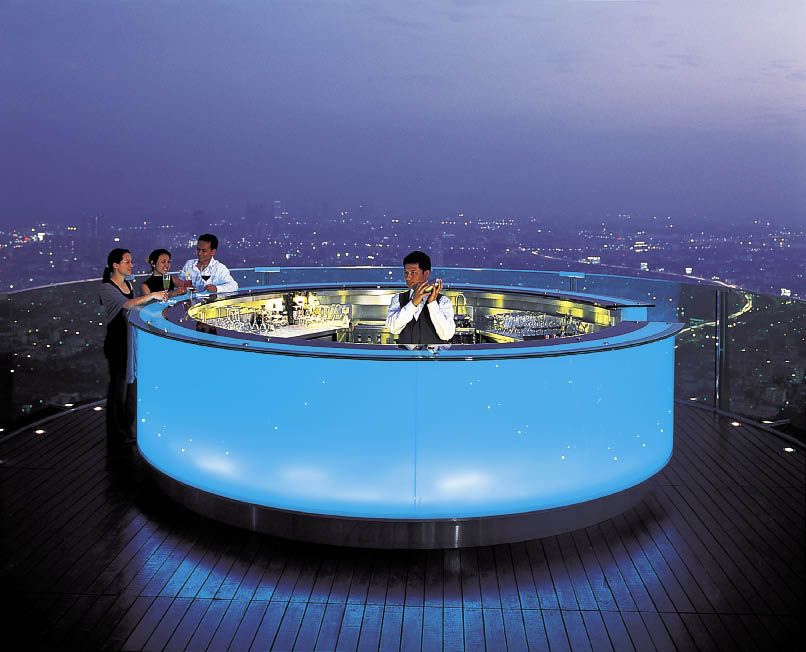 最近許多台灣人都瘋泰國的高空酒吧 ,其實在泰國高空酒吧食在很都間只不過都沒人介紹 ,所以大家總是去那幾間, 現在為你多推薦幾間 ,每間都擁有各自特色,裡頭有詳細地址及簡單介紹,讓你的夜生活不在無聊 ~一塊來瘋泰國吧!!
NEW OPENINGS
Octave
With an excellent location on equally well-located new Marriott, this multi-level rooftop bar and restaurant offers a stylish modern-industrial décor that's accentuated by striking views over Sukhumvit from the top deck. The first level, located on the 45/F, features a long balcony filled with sculpture-like sofa seating to one side and proper wooden dining tables to the other. Take the stairs up to the second level for private rooms and to the third level for another balcony bar. All the levels are heavily reliant on light brown wooden furniture and steel accents, with a blue theme running throughout. The real highlight, though, is the rooftop floor which offers an unimpeded 360-degree view of Bangkok and features a circular open bar in the middle. The food menu is more focused on Asian-themed bar snacks than proper meals, but does feature intriguing nibbles like prawns yakitori with chili tomato sauce, potted foie gras terrine and campote and toast.
45/F, Marriott Bangkok Sukhumvit, Sukhumvit Soi 57, 02-797-0000. Open daily 6pm-1am.
Zense
After spending two years closed the rooftop dining venue of Zen Department Store reopened late last year, retaining its striking view of downtown Bangkok but adding an all-new look to the mix. The decor is inspired by geometric forms and lines and is the work of Department of Architecture, whose previous works include the impressive Sala Phuket and Hilton Pattaya. The result here is a huge structure dominated by central staircases that are then surrounded by dining tables that overlook to floor-to-ceiling windows leading out to the balcony and those impressive cityscape views. Get there early to try and grab a prime position at the edge and make your selection from the menu that offers a choice of five kitchens courtesy of five famous local restaurants covering Italian by Gianni, Thai by White Cafe XS, Indian by Red, Japanese by Kikusui, and modern European by To Die For.
17/F, Zen, CentralWorld, 02-100-9898. Open daily 5pm-1am. www.zensebangkok.com
Shintori
Located one level above Zense, Shintori is an upmarket izakaya (Japanese-style tavern) with branches in Shanghai, Taipei and Beijing. The minimalist design comes from famous Thai architect Duangrit Bunnag, who took his inspiration from Japanese Zen Buddhism emphasizing simplicity alongside accents of nature. The food menu is classic Japanese with some fusion options, served with very distinctive presentation and in sizes designed to be shared. The recently opened outdoor zone gets you a wonderful breeze and of course that special view of central Bangkok.
18/F, Zen at CentralWorld, Ratchadamri Rd., 02-100-9000. Open daily 5:30pm-midnight. www.shintoribangkok.com
Maya
Opened late last month, Maya is perhaps Bangkok's most elevated Indian restaurant, sitting in a cantilevered structure on the 29th floor of the new Holiday Inn Sukhumvit 22. Maya features three different zones decked out in a contemporary Indian décor: feast on North Indian culinary creations by chef Ramneek Singh Lamba in the Khanna dining room, enjoy fine cigars with selections of single-malt whiskey at the Cigarra lounge and sip creative cocktails to go with the view at Barra.
29/F, Holiday Inn Sukhumvit 22, Sukhumvit Soi 22, 02-683-4704. Open daily 6pm-1am.
Cloud47
Bangkok's newest rooftop bar and restaurant is situated on one of the tallest office buildings in the commercial district of Silom. Perched on the 47th floor of the United Center, Cloud47 is the brainchild of a veteran concert promoter and bar investor who aims to create an affordable rooftop dining and wining experience. The result is an airy, open-air space bathed in an all-white theme accented by colorful LED-lighting and offering impressive views of the city and Chao Phraya River. The food is a mix of international and Thai dishes created by chef Akasith Katthanet, who worked at a number of fine hotels and restaurants. Cloud47 will be among the very few places in Bangkok that offers a minus-two Celsius Asahi beer, best enjoyed along with signature dishes like spaghetti dried chilli and seafood or the deep fried pork knuckle with sauerkraut and Thai-style dipping. There is also an air-conditioned wine bar where you can enjoy more than 400 labels from around the world.
47/F, United center, Silom Rd., 091-889-9600. Open daily 6.30 pm-midnight. Facebook.com/thecloud47
BEST OF THE REST
Above Eleven
While many rooftop venues stick to potentially safe menus that focus on international dishes Above Eleven decided to adopt the concept of Peruvian-Japanese fusion cuisine, better known as 'Nikkei cuisine' in Peru. Here, a selection of exciting small plates from acebichado rolls (seabass, ika karage, avocado), to skewers of anticucho beef heart comes served alongside cocktails, like their signature Pisco Sour, which also look to blend the best of South America and Japan. The décor is also impressive combining contemporary touches with natural accents. A long central open bar is surrounded by faux grass and tree-shaped lamps, and leads out to the outdoor space which features lots of wooden seating. Make sure you book ahead to get a table by the edge and take in the sweeping, if slightly vertiginous views of Sukhumvit. For the clutch lover the bag stands are a classy touch.
33/F, Fraser Suites Sukhumvit, 38/8 Sukhumvit Soi 11. 02-207-9300. Open daily 6pm-2am.
L'Appart
The top-floor fine dining venue of the Sofitel Bangkok looks to embrace the Gallic roots of the hotel chain with a décor that makes you feel like you're dining in a grand Parisian apartment thanks to the parquet flooring, stately fireplace and wood paneling. You can also seat yourself in an elegant living room for light bites or at the outdoor balcony for an impressive panorama of Sukhumvit. The cuisine is French but offers Thai touches, and is developed by Chef Jeremy Tourret who used to work at the three-Michelin-star Daniel by Chef Daniel Boulud in New York.
32/F, Sofitel Bangkok Sukhumvit, 189 Sukhumvit Rd. (between Soi 13 and 15), 02-126-9999. Open daily 7pm-midnight. www.sofitel.com
Park Society
Sat on the top floors of the incredibly fashionable Sofitel So Bangkok Hotel is the flagship eatery Park Society which gives you a choice of three different zones: The dining room features moody lighting and lots of angular mirrors alongside an impressive menu of artfully presented and created international cuisine from award-winning chef Paul Smart. Alternatively head out to the open-air balcony which impressively combines cocktails, lounge tunes and a pretty unique view over Lumpini Park. There's also a small mezzanine one level up called Hi-So Cabana (B500 entrance fee with one complimentary drink) if you want a more intimate night-out.
29/F, Sofitel So Bangkok, 2 North Sathorn Rd., 02-624-0000. Open daily 5pm-1am (Bar).
Red Sky
Perched atop one of Bangkok's tallest structures, Red Sky lets you enjoy an unparalleled panorama of central Bangkok that few other venues can beat. Choose between the two separate sections: the open-air mahogany-heavy martini bar and the large cushioned sofa sets of the sophisticated interior wine bar (complete with piano). The main talking point of this spot, aside from the views, has to be the two-story-tall wine cellar which is able to store over 2,000 bottles. There are themed cuisines nightly and if you come early you can enjoy the daily happy hours from 5pm to 7pm.
55/F, Centara Grand, CentralWorld, 99 Rama 1 Rd., 02-100-1234. BTS Siam. Open daily 5pm-1am.
Scarlett
Thanks to its transformation into a fashionable industrial chic space complete with an equally impressive al fresco balcony, Scarlett is now packed nightly with diners who come for the extensive and affordable wine list, a striking view of Silom and great food. The food consists of a menu of classic dishes and tapas designed by Chef Manuel Martinuez, the owner of the two-Michelin-star Le Relais Louis XII, with highlights including the lobster and foie gras ravioli and roasted rack of lamb with butter braised potatoes.
37/F, Pullman Bangkok Hotel G, 188 Silom Rd., 02-238-1991. Open daily 6pm-1am. Facebook.com/scarlettwinebarbangkok
Signor Sassi
Signor Sassi is global chain of fine Italian restaurants founded back in 1984 in swanky Knightsbridge, London. Now also found in Kuwait and Lebanon, Bangkok makes the restaurant's third branch. The food is resol
utely Italian, covering the classics from pasta to antipasti, while the decor contains showy touches like the Venetian carnival masks and elegant tableware. Impeccable wait staff and an impressive wine list, plus the spacious 37th floor terrace dining area have made this an extremely popular rooftop spot.
37/F, Anantara Bangkok Sathorn, Narathiwat Rd., Bangkok, 02-210-9011. BTS Chong Nonsi.
THE ORIGINAL CLASSICS
Vertigo
It was one of the first rooftop places in town and it's still hard to beat the vertiginous 360 degree views offered up by this small, unique al fresco restaurant atop the Banyan Tree Hotel. Vertigo has just undergone a renovation, which includes creating a larger space so you can more easily snag a seat for sundown. Book a table by the edge so you can enjoy the view while sampling its new menu which includes a wide range of appetizers and grilled lamb racks along with signature cocktails such as the Vertigo Sunset.
61/F, Banyan Tree Bangkok, 21 South Sathorn Rd., 02-679-1200. MRT Lumpini. Open daily 5pm-1am.
The Dome
The golden dome of the State Tower has for many years been a symbol of Bangkok's skyline, most recently helped by its starring role in the infamous Hollywood movie The Hangover II. The Dome comprises six different establishments: Breeze for fine Asian cuisine, Distil Bar for wines, oysters and cigars, the flagship eatery Mezzaluna for European creations by twin chefs Thomas and Mathias Suhring, Ocean 52 for cocktails with a relaxing, rendezvous ambiance, and the world's highest alfresco restaurant Sirocco and the adjacent Skybar for international cuisine, creative cocktails and striking views.
52, 63/F, Le Bua at State Tower, Silom Rd., Bangrak, 02-624-9555. Open daily 5pm-1am. www.lebua.com/the-dome
AmBar
AmBar is only perched on the eighth floor of the Four Points Hotel but it makes up for its relative lack of height with a striking rooftop swimming pool as an alternative focal point. Blending contemporary designs with Middle Eastern details, it creates an energetic ambience to sip a cocktail poolside.
8/F, Four Points by Sheraton, Sukhumvit Soi 15, 02-309-3000. BTS Asoke. Open daily 11-1am.
Balco
While there are plenty of places overlooking the Chao Phraya, this hidden spot, tucked away on top of the River City Shopping Complex, offers something a little different from the usual hotel bars. Affordable drinks, an airy vibe and a unique river view make for a laid back rooftop option.
5/F, River City Shopping Complex, Charoen Krung Rd., 084-938-6161. Open Tue-Sun 7pm-2am.
D Sens Bar
Predominantly a restaurant, this uber chic spot does also have its own well-stocked bar with plush seating and a fantastic view over Lumpini Park. It might not be alfresco but the mood is super sophisticated. Oh, and the men's toilets are pretty special as well.
22/F, Dusit Thani Hotel, 946 Rama 4 Rd., 02-200-9000 ext. 2499. MRT Lumphini /BTS Sala Daeng. Open Mon-Sat 11:30am-2:30pm, 6:30-10pm. www.dusit.com
Sky Bar/Distil (Sirocco)
You have two options depending on your ability to cope with heights: Distil has more limited views but some lovely laid back couches, while the colorfully illuminated Sky Bar seems to hang out over the edge of the 64th floor of this hotel to offer breath-taking (literally) views.
63-64/F, Le Bua Hotel at State Tower, 1055 Silom Rd, 02-624-9999. Open daily 6pm-1am. www.lebua.com
Long Table
This glamorous spot still manages to be one of the funkiest rooftop options around, thanks to its striking opulence: from the glittering entrance lights, to the 24-meter dining table and the swimming pool. But they all play second fiddle to the impressive view of Bangkok's skyline from the spacious open-air terrace balcony.
25/F, Column Building, 48 Sukhumvit Soi 16, 02-302-2557-9. BTS Asoke. Open daily 5pm-2am. www.longtablebangkok.com
Moon Bar
It was one of the first rooftop places in town and it's still hard to beat the vertiginous 360 degree views offered up by this small alfresco bar atop the Banyan Tree Hotel. It does mean that it is already on many visitor's radar and gets busy, but it's worth it if you can snag a seat for sundown. Just check the weather first.
61/F, Banyan Tree Bangkok, 21 South Sathorn Rd., 02-679-1200. MRT Lumpini. Open daily 5pm-1am.
Nest
Now a fixture on the Sukhumvit nightlife scene, Nest offers a perfect blend of sexy sophistication and chill out chic. Lay back on one of their super comfy daybeds or slip into the cozy nest-like seating with a strong cocktail in hand while you enjoy the views of the night sky and the clubby vibe.
Rooftop of LeFenix Hotel, 33/33 Sukhumvit Soi 11, 02-255-0638/9. Open daily 4pm-2am. www.nestbangkok.com
Three Sixty
Located at the Millennium Hilton inside the weird UFO-like structure at its top, Three Sixty might be inside but it still offers a 360-degree view to die for. Catch the free boat to the other side of the river from Central Pier, and then head up to the 32nd floor to enjoy a glass of wine and a dose of easy listening jazz.
32/F, Millennium Hilton, 123 Charoennakorn Rd., 02-442-2000. Open daily 5pm-1am. www.hilton.com
The Garret
The vibe here is casual sophistication, thanks to the lounge-y, prohibition-chic furniture and stylish setting out on the rooftop terrace. Their signature cocktail Granilla Vojito adds a scrumptious vanilla twist to a classic and the Richy (vodka with lychee juice) is a must .
Rooftop/F, Mini Showroom, Ekkamai Soi 7, 02-711-6999. Open daily 11:30am-2:30pm, 6pm-midnight.
Roof by MUSE
Bangkok's most happening club has a secret, its recently-completed rooftop garden—a space where the city's trend setters chill out amidst lush vegetation, a minimal wood decor and live acoustic music. The drinks are the focus here so try a sangria alongside fancified comfort food like the foie gras burger. The overall concept makes it a good tranquil place for some pre-partying before hitting the neighborhood clubs.
159/8 Thonglor Soi 10, 089-988-5995. Open Tue-Sun 6pm-2am.
Make sure to check out our Things to do in Bangkok Guide. Also keep up to date with the latest events and festivals here and make sure you know all you need too when you touch down in Thailand with our Arrival Guides.